GAMMA
Applications
Research tasks;
Aerial photography;
Real-time video capturing;
Multi-spectral photography.
Tasks performed
Geodesy
Creation of maps and large-scale plans - up to 1:500 (optional);
Creation of three-dimensional elevation models.
LIDAR scanning.
Mining
Calculation of mine working volumes;
Real-time monitoring;
Control of piling and open-pit edges condition.
Road industry
Assessment of the road surface condition
Building the longitudinal and transverse profiles
Cartographic support for GIS.
Forestry
Monitoring of the forest plantation condition
Detection of illegal logging
Observation over animals
Agriculture
Electronic maps fields creation
Calculation of NDVI and other indices
Land inventory formation
Construction
Construction works planning
Quality control
Engineering survey
Science
Equipment testing
R&D in the field of ecology, nature management, instrument making
Emergencies
Detection of objects and people
Monitoring the natural disasters
Geophysics
Aerial magnetic measurements
Aerial electrical prospecting
Detection and gases identification in the atmosphere


Major application properties
Automatic pre-flight diagnostics
Automatic route flight and landing
automatic take-off and landing (optional)


Key features and properties
Long flight duration – up to 12 hours
L1/L2 GLONASS/GPS may be optionally included in the complex, which improves the accuracy of photo centers and reduces the amount of on-ground works
Payload weight up to 25 kg


Specifications
Flight performance

AV velocity

70-140 km/h

Flight altitude

100-5000* m

Flight duration

up to 12 hours

Landing strip requirements

70 х 300 m

Maximal range of radio communication

50 km

Navigation fixing accuracy (RCS)

base configuration: plane – 2m, height – 3 m
configuration with a GNSS receiver with high accuracy (phase differential mode - RTK): plane – 0.1 m, height – 0.2 m

Automatic saving system

parachute

Environmental resistance

Maximal allowable wind speed

up to 20 m/s

Operating temperatures range

-35 to +45°C

Weight and dimensions

Takeoff weight

50 kg

Payload weight

Up to 25 kg

Wing span

4100 mm

Length

2840 mm

Height

800 mm
* landing strip required
Device structure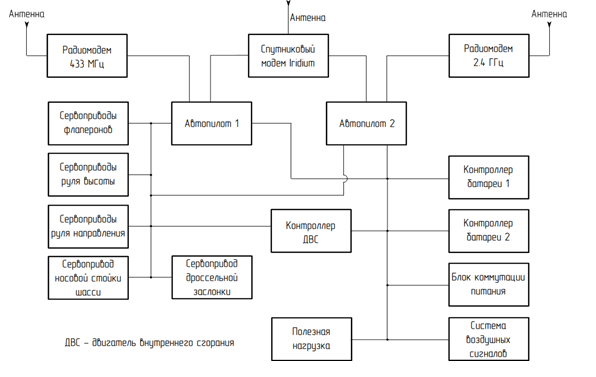 Address:
Elektrikov st., 156/1, Krasnoyarsk, Russia, 660079